BACK PURCHASE INFORMATION GENERAL INFORMATION HOME
Little Bird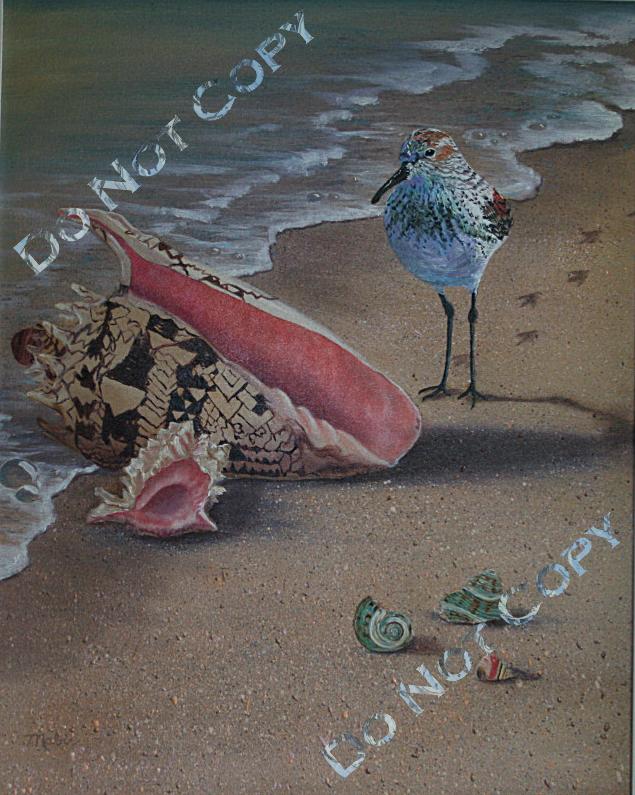 Little Bird
The little bird had just finished running up the beach as the ocean foam had chased him from his food search. As he returned toward the sea, the little bird seemed to sense an inner beauty coming from the conch shell lying near his path. The sandpiper stopped and looked, seemingly in awe of a beauty of nature. The act provided a beautiful interaction of colors and motion.
With "Little Bird", Susan Mabie has captured that moment in the life of the bird, that moment in time, that moment of God's beauty on canvas. It is a soothing palette, the blues and pastels of daylight on the beach. Yet, using a variety of brush strokes and techniques, the stillness the beach and shells and the flow of the ocean are in stark contrast to each other. Hours of studying the foam and bubbles at the edge of the ocean as it reached its limit were necessary just to capture this effect. Stand and feel the salt air and hear the ocean rolling as the little bird looks on in awe.
"Little Bird" is a part of the Landscapes and Stuff Collection by Susan Mabie
Base Size: 16" x 20"
Order Sizes: Canvas rolled price Stretched price

16 x 20 $102.00 $115.20